Issue 22: How Strava helps athletes to be their best, a research guide for startups, how technology sabotages public safety
Resources to create better products
This is a really interesting interview with Chris Gallello, product manager at Strava:
Staying motivated is probably one of the biggest problems to solve. If we can provide that motivation for you to go outdoors or to just get out there and be active, then we win.
He talks about how they use research and data together, their approach to product strategy, and more.
The Thinking, Fast and Slow framework also applies to product management tasks:
We have a number of repetitive System 1 tasks that we need to do every week, such as triaging email, updating reports, and facilitating team meetings. But we are also expected to perform a series of System 2 tasks, such as carefully considering a product roadmap, framing user problems, undertaking strategic analysis, and evaluating different possible features.
Enzo Avigo goes into detail on identifying and isolating these different types of work.
The problem with "vanity metrics" is that they appear impressive but don't give insight into the true performance of a product. The Nielsen Norman Group explains how to change that:
Tracked metrics should be actionable: changes in the metric should map to changes in the health of our digital property.
---
Resources to work better together
A great resource from the Google Ventures team.
Some good advice from the Google Design team: "Design clear interactions instead of clever ones, and users will follow".
The Consentful Tech Project raises awareness, develops strategies, and shares skills to help people build and use technology consentfully.
---
Technology news
I'm really glad someone wrote an article about what I'm sure is on many people's minds:
Nir Eyal does not for a second regret writing Silicon Valley's tech engagement how-to, "Hooked: How to Build Habit-Forming Products," even as he now has a new book out on how to free ourselves of that same addiction.
You can't write a book about how to get people addicted, and then write a book about how to get them un-addicted again. I mean, this is America, so I guess you can. But you shouldn't be able to get away with it without being called out.
Ian Bogost argues that "technology services are systematically, if invisibly, eroding long-won victories in public safety." One example (among many in the article) is scooters:
According to a study published earlier this year, over 12 months two California emergency rooms admitted 249 patients with injuries from scooter mishaps. Most common were head injuries—largely caused by riders' failure to wear helmets—although fractures were also common. A Centers for Disease Control and Prevention (CDC) study conducted in Austin, Texas, counted 20 injuries presented to medical-emergency services per 100,000 e-scooter trips over a three-month period. Almost half were head injuries, and 15 percent were traumatic brain injuries.
Confession: this is the first time I've actually seen any TikTok videos. Please, can more people write articles that explain new technology for olds like me.
And yet there is something about TikTok's presence in mainstream culture — as a testing ground for "real" stars, as an Emmys joke about what the kids are into — that underestimates the power of the thing itself. It feels as if there are endless TikTok universes unfolding all at once.
This is not just a fascinating story, I'm also pretty jealous that the team can literally shut off their product for days and have the result be that people are not mad, but excited about what comes next.
On Sunday evening, more than 6 million people gathered online via streaming services such as Twitch and YouTube to watch the end of the world. Not our world, thankfully, but the world of Fortnite, which was sucked into a black hole, taking the whole game and all player characters with it. If you try to load Fortnite today, you'll be presented with a blank screen. When developer Epic Games called the finale of Fortnite Season 10 "The End", it wasn't kidding.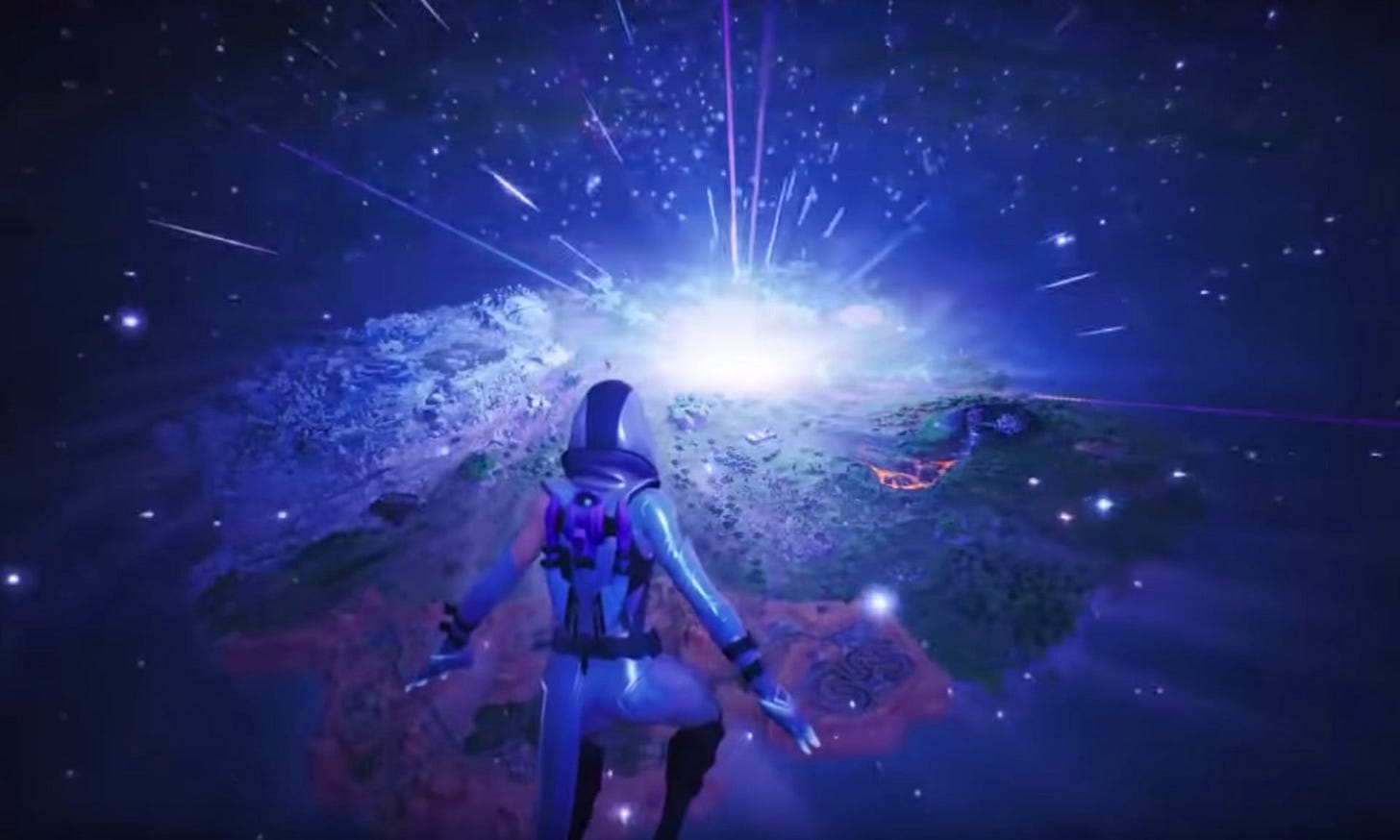 A really interesting Outside Magazine look at how a new generation of games — like Far Cry New Dawn and Red Dead Redemption 2 — aims to get people immersed into nature and the outdoors.
Recent studies have shown that the same parts of your brain that get stimulated during a hike can get fired up by screen time in a digital wilderness. Colin Ellard, a neuroscientist at the University of Waterloo in Ontario, has studied the phenomenon, and he says that "when we engage in game play, certainly with immersive virtual environments, we're probably reproducing a lot of the same patterns of activity in the brain that are produced by real environments."
There are, of course, drawbacks, which the article goes into as well.
---
Random things I like
🎸 The economics of streaming is changing pop songs. Songs are getting snappier, with shorter intros and earlier choruses.
🦇 I have a legitimate bat phobia, so this comes as no surprise to me. Researchers "Translate" Bat Talk. Turns Out, They Argue—A Lot.
🏢 Are architects and designers creating beautiful, functional spaces—or merely social-media-friendly content?
⚔️ What happens when two rival companies merge? Brian Feldman on the ticking time bomb of old Slack posts.
🗺 Once the dominant mapping site, the decline of Mapquest is a story of disruptive competition and corporate complacency. It deserves this eulogy.
---
Final thoughts
📖 I'm still stuck in Stephen King's latest world, and relishing it.
🎵 Monster isn't my favorite R.E.M. album, but it's been fun digging into it again after *whispers quietly* 25 years.
🐦 I'm really sorry, but I can't get this joke out of my head: