Elezea Newsletter — Issue 21
Resources to create better products
Interesting article on how designers believe many product managers don't understand "The Business." "Designers felt that PMs should have a deep understanding of the business model and how changes to the product contributed to improving the bottom line and customer experience. Unfortunately, in many cases, PMs either didn't have a firm grasp on the economics of the product or they couldn't explain it in a way that designers understood." (Laura Klein, Users Know)
A great adaptation of the Impact Mapping technique, specifically for product discovery. "Impact mapping, in its original form, was created by Gojko Adzic, who coined the term in his book in 2012. The goal was to support the strategic alignment of business sponsors, stakeholders, and delivery teams. However, in this article, I want to share a different interpretation of impact mapping, tailored to the challenges and needs for product discovery efforts." (Tim Herbig, ProductCraft)
I'm very much on board with this. Timeline roadmaps incentivize the wrong behavior because it prevents teams from making necessary changes as new information becomes available. "The best product people aren't the ones who make assumptions about the future and drive towards them. Instead, they know to surround themselves with experts and to ask the best questions. They know that markets and constraints change and that the best way to take advantage of opportunities is to remain lean with a flexible product roadmap." (Janna Bastow, Mind the Product)
___________________
Elezea is 100% reader-supported. If you would like to help, please share on your favorite network, forward to a friend or colleague, or become a patron.

Resources to work better together
A comprehensive resource to help you become a strong brainstorming session facilitator. Includes brainstorming techniques, ideas, and rules to go by. (Anna Savina, Miro Blog)
Don't throw in the day job to follow your dream. Join the bifurcators who juggle work-for-pay and work-for-love. (Thomas Maloney, Aeon Magazine)
Another excellent guide from the Doist team.
WaPo picks up on the growth of remote work with some fancy charts. (Andrew Van Dam , Washington Post)
New research from Udemy reveals that workers aren't content with the blurring of lines between personal and professional lives and the relaxing of workplace norms.
Technology news
This is an article about devices that do less, but I really like this description of "incentive structures" in the products we use. "This isn't an advertisement for a product; it's an attempt to highlight how incentive structures matter in design. The Kindle is made by a company that makes money when it sells books. So our incentives are aligned: I want to read books, and Amazon wants me to read books. I don't believe the alignment is as clear-cut on any other computer I own." (Zeynep Tufekci, WIRED)
I like this a lot. "For me, I think the future of screen time is togetherness. I see a world where global collaboration is seamless and enriching. People working together, building on each others knowledge, and learning from each others cultures. The initial building blocks are already in place. Why would we want to hold our children back from these types of experiences?" I watch my 10yo do coding in Scratch when she's with her friends, and their "togetherness" feels very real and meaningful. (Björn Jeffery, Personal blog)
I don't exactly know why, but one of my favorite genres of writing is "millennials explaining young people things to old people". "When you watch a video on TikTok, you can tap a button on the screen to respond with your own video, scored to the same soundtrack. Another tap calls up a suite of editing tools, including a timer that makes it easy to film yourself. Videos become memes that you can imitate, or riff on, rapidly multiplying much the way the Ice Bucket Challenge proliferated on Facebook five years ago." (Jia Tolentino, The New Yorker)
This is a fascinating argument, backed up by research, that third-generation tech, like digital music and phone cameras, can help rejuvenate first-gen tech, like vinyl and film photography, if the newest products lack something valuable the originals offer. In this case, tangibility. (Renaud Foucart, The Conversation)
Old people don't like small screens, and young people may never get to experience big ones. (Tyler Cowen, Bloomberg)
Random things I like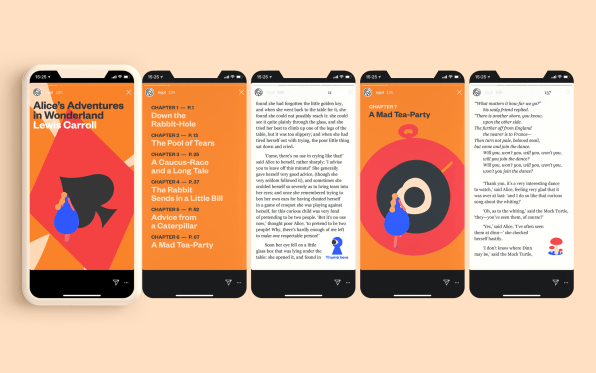 📖 Last year, the New York Public Library released an experiment to put the full text of novels in its Instagram Stories. Today, an estimated 300,000 people are reading books this way.

✍️ A writing instructor evaluates the writing quality of the whistleblower complaint, and likes what she sees.
📦 This piece on crate-digging deeply resonated with me, since I spend a lot of time flipping through records as well. "The important thing to remember is that this basement isn't packed with treasure. It's packed with junk. You have to spend the time to sort through the junk to find the treasure. There is no shortcut. There is no algorithm. There is only time, attention, noticing — digging."
🎵 This week's article about a topic you didn't even realize you wanted to read about is on professional page turners for classical musicians, and why they matter. (It has funny gifs.)
🤓 If you want to go deep on the history, controversies, and importance of the Oxford comma, this one's for you.
Final thoughts
📖 I got completely, totally, 100% sucked into the new Stephen King novel. How does he do it!?
🎵 I'm not a country fan, so I didn't know the name Sturgill Simpson until this week. But then reddit told me to check out his new album, so I obliged. Holy smokes, this thing (called SOUND & FURY) hits you in the face. It's… synthwave southern country rock... or something. I don't know. Whatever it is, you should listen to it. Vinyl Me, Please also has a really good review of it.
First time seeing this newsletter? Subscribe here.