Elezea Newsletter — Issue 2019.22

Hi there,

Just a short intro this week to let you know I'm moving the newsletter to Wednesdays. It feels like some mid-week inspiration is a better way to go than filling up your weekend reading queue with work-related stuff on Fridays.

I hope you enjoy this week's issue, and as always, please let me know if you have any comments or feedback!

Rian
Featured product management articles
I usually stay away from article titles like these, but I thoroughly enjoyed this essay by Chris Cannon. If you talk to customers at all as part of your work, in any context, this is a goldmine of good advice:
Problems are stories — it's a dull tale that has no conflict to resolve. The customer on the other side of that table is the protagonist in their own adventure. We've selected them as a persona that might be interested in casting us as their hero (or even in a supporting role that lets them be the hero of their own story).

So be accommodating: Engage the customer on their terms. Be perceptive: Listen for gaps in the customer's story that might be worth investigating further. Be a listener: Only talk to make the customer comfortable or to dig for details. And then shut up.

Amen to that.
Christine Itwaru writes about an important topic that we don't talk about enough:
Reflecting back, there's one critical thing I didn't recognize until I was in the thick of it. I realized those in product management — from product owner to chief product officer — are never individual contributors. Instead, they're in a position to become true servant leaders.
I would only clarify one thing, and that is that PMs are, for the most part, never individual contributors only. We still do a lot of hands-on work, but I do agree with the larger point that we need to teach more general leadership skills in the role. Christine continues:
Several key principles belong to servant leadership and are critical to being good students and teachers, including empathy, persuasiveness, and generosity. We're going to talk about how to be a servant leader in product. Let's go into more detail on how these traits apply to your team, your people, your organization, and finally, your customers.
She shares some very good advice in the rest of the post.
Emile Ledure tries to answer the question, "how do you build products that stick and last in a healthy way?" I really like his approach in this article — especially the principle "Have fewer but better interactions":
You don't necessarily build retention by pushing people to use your product every day, you do it by bringing high value every time they need it — even if it means being absent most of the time. So don't be greedy. […]

Fewer but more memorable experiences help you build stronger and deeper relationships with your users, which creates loyalty in the long run.
Further product reading
Product Differentiation: What Every Product Manager Needs to Know →
Christina Gkofa explains three common ways in which you can differentiate your products.
Why we ditched two-week sprints for a better product development process →
Another team tries out the Basecamp way and has good results with it.
Quote of the week
Finance, sales, or marketing shouldn't tell the product teams what to do. Instead, these groups can supply intelligence on what customer problems need solving, and what opportunities they see. They describe the market part of "product market fit." Then they stand by, let the product teams work, and clear the way of things that might slow them down.

— From Trillion Dollar Coach: The Leadership Playbook of Silicon Valley's Bill Campbell by Eric Schmidt, Jonathan Rosenberg, & Alan Eagle.
Work better together: resources and tools
The Anatomy of a Great Decision →
Excellent article on how to get better at the two main qualities of better decisions: (1) using principles, not tactics; and (2) looking at a situation through a multidisciplinary lens.
The Future of Work: A Decentralised Workforce →
Good article on what companies gain from enabling and encouraging remote work.
How to Work From Home: Tips to Increase Productivity Outside the Office →
Some good advice for staying healthy and productive as a remote worker.
Remote life hacks from the Miro team →
More tips! The "end your day with a ritual" approach has been particularly helpful for me.
Actionable security best practices for CTOs and developers. Select your startup stage and use these rules to improve your company and app's security.
The fastest tool for measuring anything on your screen.
Technology news and reflections
In defense of friction and doing things the hard way
Rob Walker's essay on Productivity and the Joy of Doing Things the Hard Way got me thinking again about our obsession with "frictionless design" and "seamless experiences". Rob starts by pointing out the dangers of focusing so much on ease:
I don't oppose productivity. I need to get things done just like anybody else; I enjoy a helpful efficiency hack. I just worry that our obsession with productivity, and the explosion of technologies designed to boost it, come at a cost. "A tool that simply smooths and oils our way, that speeds us to the execution of an impulsion," as writer Nicholas Carr once put it, "has a deadening effect."
Bruce Willen addresses this topic from a design perspective in his recent essay In Defense of Inconvenience:
Inconvenience activates us as human beings. Our bodies are built to respond to resistance. We develop our muscles and lung capacity through repeated exercise and strenuous work. Our mental and emotional capacities are no different. As we acclimatize to convenience will it diminish our capacity for exploration and for navigating emotionally complex situations? When we sand the sharp edges off of our experiences, it allows us to forget that life is inherently weird and challenging.
All of this reminds me of Frank Chimero's excellent talk on why it's important to do things the long, hard, stupid way (sadly the talk video seems to be gone from the internet, but you can still read the transcript). Our goal for ourselves shouldn't be ease and seamlessness. It should be growth and betterment, and that only happens when there is appropriate friction and struggle. I think Cal Newport sums it up really well when he says, "there is no avoiding the deliberate strain of real improvement."
💡 For more on this topic and how it relates to software in particular, see Clive Thompson's We Need Software to Help Us Slow Down, Not Speed Up, Jesse Weaver's The Value of Inconvenient Design, and Nicholas Carr's Against frictionlessness.
I suspect this is going to make some people really mad, but here goes:
Except in extraordinary situations, Dark Mode is not easy on the eyes, in any way. The human eyes and brain prefer dark-on-light, and reversing that forces them to work harder to read text, parse controls, and comprehend what you're seeing.
Vicki Boykis, who writes one of my favorite new newsletters called Normcore Tech, reflects on public and private technology spaces:
Railroad stations are liminal spaces, physical places that are places of transition as opposed to places of purpose (i.e. home, work, coffee shops, etc.). You're not entirely in one place, but not entirely in the next. As such, they're places of immense ambiguity for humans, where the rules might not necessarily apply. At train stations, surrounded by strangers, people became relaxed and told jokes that they probably wouldn't tell at work or at home, knowing they might never see these people again.

Anyway, how this relates to tech today is that we have a ton of liminal places popping up that we haven't defined as such, and, as a result, we have a problem of not knowing how to deal with them.
Quick links
Metadata is the biggest little problem plaguing the music industry →
As someone who has spent way too much time manually editing files with Music Tag Editor, this article was pretty painful to read. It's also the reason why I subscribe to Roon — the only software I've found that comes even remotely close to bringing the experience of physical media to digital music.
Pardon the Disruption: Design thinking and the supermarket of the future →
Grocers have added all sorts of new products and services in recent years, but they're not examining the fundamental ways shoppers use — and want to use — their stores.
Airbnb teams up with 23andMe to recommend heritage travel destinations →
Here's an interesting bit of lateral product thinking. The two companies get together to suggest pilgrimages to uncover family histories in people's home cities, towns, and countries.
Random things I like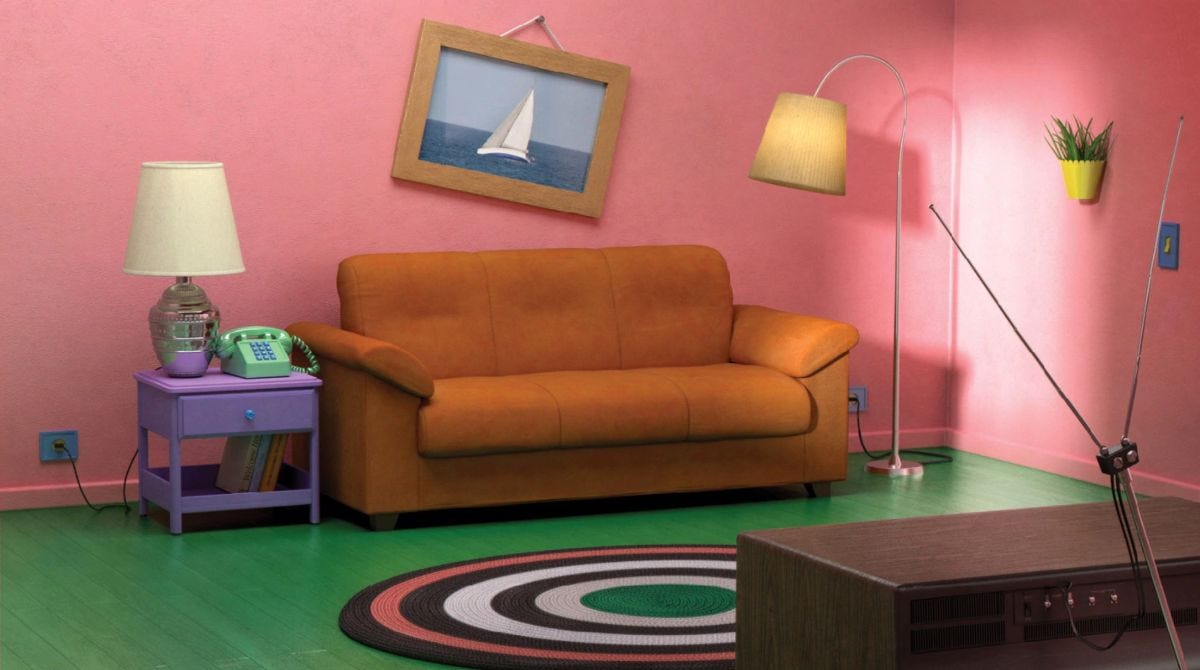 🛋 IKEA recreated a few famous TV living rooms using only their own furniture. Can you name all of them?
🌍 Ok, how many of these do you remember? Before Netscape: The forgotten Web browsers of the early 1990s.
☎️ Isaac Smith is ditching his smartphone, and wrote a really interesting post about the decision.
😂 An Illustrated Guide to Everyone I Blocked on Twitter is really funny.
First time seeing this newsletter? Subscribe here.